Week three of this
2 year adventure
that
Pigling Bland
and I have started on. (Aside - do you think it's okay that I call her Pigling? She has self-styled as such in the bio of her blog, but in real life I'd certainly only ever call her Gill, hmmm.)
Anyway, a fairly standard cookie recipe, with a fairly ordinary method of manufacture, (cream butter and sugar, add rest of ingredients, chill, roll, chill, cut, bake,) in contrast with the last two bakes from Home Sweet Home.
I did ignore the instructions slightly, because I thought these looked better with a smaller centre cut out - the instructions advised one about twice as big, but I preferred the semi-jammy-dodger type look.
These are quite big biscuits really, about twice the size of your normal jammy dodger, but standard linzer cookie size (based on my somewhat limited experience - the coffee shop where I used to work sold them, but at £1.50 each I was somewhat reluctant to buy one...)
Linzer cookies have a spiced biscuit dough, which contains ground almonds, and are generally filled with raspberry or strawberry jam. I substituted the jam with
wild plum and apple jelly
, which I feel gives them just the right deep red centres.
Ingredients:
280g unsalted butter, softened
150g caster sugar
380g plain flour, plus extra for dusting
1/2 tsp ground cinnamon
60g ground almonds
200g seedless strawberry jam (or any red, smooth, jelly or jam)
Next week: Blackbottom Pie
Please do join us in this crazy bake along. Here's a badge if you do, and do pop a link in the comments so we can have a nosey!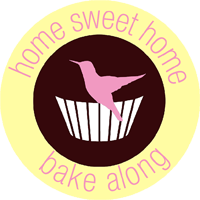 HTML code to insert badge (copy and paste):
 <a href="http://beckie-a.blogspot.co.uk/" rel="nofollow" target="_blank"><img src="http://twitchyneedles.com/homesweethome.png" border="0" height="170" width="170" alt="#HomeSweetHomeBakeAlong" /></a>  
Edited to add: I'm entering this in #CookBlogShare