These are probably my go-to cookies for birthday gifts, home groups, general consumption.
In fact, they are the item I have made most from Home Sweet Home, having made them at least thrice before we began this bake along.
They are simple, and the amaretto really makes them special (and I think is what makes them truffle-y, which may be why
Gill
didn't feel them appropriately named).
They disappear quickly, and small children have to be restrained from seconds.Adults, on the other hand, may indulge freely. Ah, the contradictions of age.
Ingredients:
80g plain flour
25g cocoa powder
1/2 tsp baking powder
90g caster sugar
25g unsalted butter, cubed
1 egg
10ml amaretto
50g icing sugar, to coat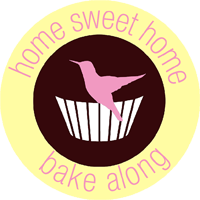 HTML code to insert badge (copy and paste):
 <a href="http://beckie-a.blogspot.co.uk/" rel="nofollow" target="_blank"><img src="http://twitchyneedles.com/homesweethome.png" border="0" height="170" width="170" alt="#HomeSweetHomeBakeAlong" /></a>  
I'm entering this in #CookBlogShare