This is what we want from Hummingbird Bakery - sugary treats, filled with calories and American-style charm.
A simple concept - jam filled doughnut, but in jam filled cupcake form. Iced with a cinnamon buttercream, and topped with a little doughnut.
The recipe warns you to make extra little doughnuts as several will miss the cakes and accidentally fall into your mouth. I concur with this advice, and thankfully there is dough to make a good few more little doughnuts than you will need for topping purposes.
Another lot of deep fat frying, and I'm well out of the fear range. Armed with my sugar thermometer and copper bottomed pan I'm almost *whispers* confident!
Plus these little doughnuts were a lot quicker to fry than the
Funnel Cakes
, so the frying smell was less entrenched, and disappeared more quickly! I think I'll definitely be making the doughnuts again at least.
I made less icing than recommended, and would advise you to do the same - the whole recipe is distinctly profligate, but 1/2 didn't yield quite enough to ice all the cupcakes, perhaps 3/4 of the recipe would be the charm?
Ingredients:
For cupcakes:
70g unsalted butter, softened
210g plain flour
250g caster sugar
1 tablespoon baking powder
1/2 tsp salt
210 ml whole milk
2 large eggs
For filling:
100g strawberry jam
(I used blackberry jelly, because, well, that's what I had!)
For the cinnamon sugar:
1 tsp cinnamon sugar
100g caster sugar
For the doughnuts:
250g plain flour, plus extra for dusting
(I used bread flour, for a more bready doughnut)
1/4 tsp salt
1/2 tsp baking powder
25g cold unsalted butter, cubed
35g caster sugar
1 large egg
125ml whole milik
~1 litre sunflower oil (for frying)
For icing
(I halved this and had enough for 14 cupcakes, but two had to remain un-iced, as the recipe yielded 16 cupcakes)
660g icing sugar, sifted
1tsp ground cinnamon
210g unsalted butter, softened
60ml whole milk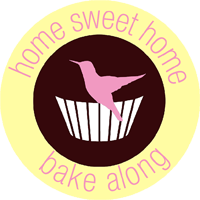 HTML code to insert badge (copy and paste):
 <a href="http://beckie-a.blogspot.co.uk/" rel="nofollow" target="_blank"><img src="http://twitchyneedles.com/homesweethome.png" border="0" height="170" width="170" alt="#HomeSweetHomeBakeAlong" /></a>  
I'm entering this in #CookBlogShare