I have to say, I'm not convinced on this recipe - it is a very soft set for a cheesecake, despite using gelatine. (Mrs B found the
same thing
so I'm pretty sure it's not my ineptitude this time.)
Then we need to talk about the 4 raw egg yolks in the cheese part. Why are they there? What do they do? (Apart from make this cheesecake unsuitable for pregnant women, and make me nervous about serving it to friends?) I think if I'd been planning this more I would have omitted them - they don't add anything, and I doubt anyone would notice their absence.
Then of course there is the enormous volume of peanut praline (more than twice what was needed, even with my generous application.)
The cheesecake is not unpleasant, and I love it as a concept, but I'm not sure it works in practice. The crunchy peanut butter goes kind of soggy, and the peanuts aren't really crunchy - I think a smooth peanut butter would give a better texture and more even flavour.
I'm afraid I probably won't be repeating this one though, there are better cheesecakes out there!
Ingredients:
For the base:
200g nutty chocolate chip biscuits (I used a packet of hazelnut and chocolate chip cookies)
75g unsalted butter, melted
For the cheesecake topping:
400g full fat cream cheese
150g caster sugar
4 large egg yolks (see comments above)
6 leaves of gelatine
150g crunchy peanut butter (see comments above)
250ml double cream
For the peanut brittle (makes far more than needed):
100g unsalted roasted peanuts (where sells *un*salted roasted peanuts?? I used salted ones, they worked just fine, and actually tied the whole "peanut butter" thing in better)
200g caster sugar
50ml water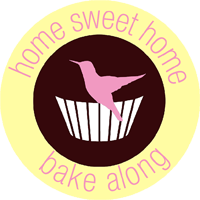 HTML code to insert badge (copy and paste):
 <a href="http://beckie-a.blogspot.co.uk/" rel="nofollow" target="_blank"><img src="http://twitchyneedles.com/homesweethome.png" border="0" height="170" width="170" alt="#HomeSweetHomeBakeAlong" /></a>  
I'm entering this in #CookBlogShare