Not really a recipe - more, as a former housemate used to say, "co-ordinated packet opening." (That was her approach to dinner parties, which is a pretty clever one, really)
Maple always goes well with pecans, so I added about a 1/4 teaspoon of maple flavour (I bought it in the USA when I was last over there, I'm not sure you can get it over here, sorry) to the pecan mixture.
500g of puff pastry does make a *lot* of twists - I used 3 trays, and was still squeezing them onto the trays. Next time I would probably make less pastry, but maybe a little more of the pecan mixture.
Like cheese straws, but sweet, these are flaky and crispy, and quite nice, and were a nice altenative to "real" baking. I'm not really sure why they needed to spend 10-15 minutes in the freezer, but they dutifully did. They still unravelled in the oven!
Ingredients
500g puff pastry
40g pecan nuts, finely chopped
50g soft light brown sugar (I had run out, I used dark brown, I liked it)
1/2 tsp cinnamon
(1/4 tsp maple flavouring)
1 large egg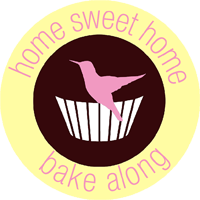 HTML code to insert badge (copy and paste):
 <a href="http://beckie-a.blogspot.co.uk/" rel="nofollow" target="_blank"><img src="http://twitchyneedles.com/homesweethome.png" border="0" height="170" width="170" alt="#HomeSweetHomeBakeAlong" /></a>  
I'm entering this in #CookBlogShare