As we have
discussed previously,
I am not a fan of scones, and shortcakes being close cousins of scones, I, therefore, only made a quarter of this recipe - two shortcakes. And then I fed one to dear Papa.
They look more rough and ready than they should as I divided the dough in two and patted each into a disc, rather than cutting out the shortcakes.
Although I probably wouldn't make these again, they were quite acceptable and the recipe worked well. I did like the crackly top from the milk and sugar.
Ingredients
240g Plain flour
1 tbsp baking powder
1/2tsp salt
120g cold unsalted butter, cubed
160ml milk
3 tbsp caster sugar (for sprinkling on top)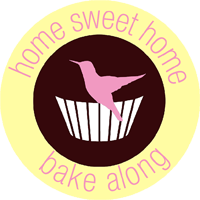 HTML code to insert badge (copy and paste):
 <a href="http://beckie-a.blogspot.co.uk/" rel="nofollow" target="_blank"><img src="http://twitchyneedles.com/homesweethome.png" border="0" height="170" width="170" alt="#HomeSweetHomeBakeAlong" /></a>  
I'm entering this in #CookBlogShare