Of all the bakes in the Home Sweet Home book, the cupcakes are probably my favourites.
So many creative ideas, with so much fun.
The biscuits alone here went down very well. (The recipe makes far too many jam-and-cream filled delights for just the cake, so the spare biscuits went to work, and disappeared in 5 minutes flat.) They will be repeated!
The cupcakes are *really* sweet - next time I'd probably reduce the sugar, but the slight tartness of the jam makes a nice contrast and the texture was very good - pillowy and tender.
I had such fun making these.
You won't need all of the icing, unless you want diabetic coma inducing levels, piped in big swirls - two thirds of the recipe will be enough to fill the cakes, fill (all, including spares) the biscuits and ice the cakes.
For the mini jolly jammers:
100g unsalted butter
140g caster sugar
1 egg
200g plain flour
1/4 tsp cream of tartar
For the cupcakes:
70g unsalted butter
210g plain flour
250g caster sugar
1 tbsp baking powder
1/2 tsp salt
210ml milk
2 large eggs
1 tsp vanilla extract
For the frosting (two thirds of this recipe will be more than sufficient)
650g Icing sugar
210g unsalted butter
60ml milk
1/2 tsp vanilla extract
For the filling
(of both cakes and biscuits)
100g smooth strawberry jam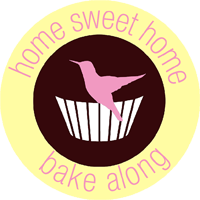 HTML code to insert badge (copy and paste):
 <a href="http://beckie-a.blogspot.co.uk/" rel="nofollow" target="_blank"><img src="http://twitchyneedles.com/homesweethome.png" border="0" height="170" width="170" alt="#HomeSweetHomeBakeAlong" /></a>  
I'm entering this in #CookBlogShare