These were lovely and lemony, but I'm afraid they're not cookies!
The closest thing I could compare them to would be whoopie pies with crispy edges.
Lovely and lemony. The ricotta is more for texture, its mild flavour struggles to stand up against the lemon zest.
Upon reflection, I probably should have made my zest a bit smaller, the long strings are slightly disconcerting.
My cookies ended up looking a little less smooth than
Gill's
and the book's. I agree with Gill - the amount per cookie should probably be two teaspoons not two tablespoons. They also took 20-25 minutes to bake, not the quoted 15 minutes.
I would probably bake these again.
For the cookies
210g plain flour
1/2 tsp baking powder
1/2 tsp salt
60g unsalted butter
200g caster sugar
1 egg
100g ricotta cheese
1 1/2 tbsp lemon juice
grated zest of 1 lemon
For the glaze
120g icing sugar
1 1/2 tbsp lemon juice
grated zest of 1 lemon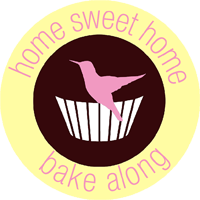 HTML code to insert badge (copy and paste):
 <a href="http://beckie-a.blogspot.co.uk/" rel="nofollow" target="_blank"><img src="http://twitchyneedles.com/homesweethome.png" border="0" height="170" width="170" alt="#HomeSweetHomeBakeAlong" /></a>  
I'm entering this in the new #CookBlogShare, which is being hosted this week by
Snap Happy Bakes