The cupcakes are definitely the best things in this book, always fun and a little bit quirky.
The recipes seem to be exactly what is in the shops, which does explain the sometimes strange quantities - as if a bulk recipe has been scaled down as small as it would go. The custard inside these cupcakes rather delighted certain colleagues, and is definitely a fun surprise!
These cupcakes aren't a quick fix due to their many elements, but they are worth it. The unusual method of mixing the dry ingredients and butter before adding the liquid, plus the tablespoon of baking powder makes a lovely soft and moist cupcake.
Ingredients:
For the Custard Cream Biscuits (this dough is so soft it was easier to spread it rather than roll it, it may need chilling in the fridge):
100g unsalted butter, softened
140g caster sugar
1 egg
200g plain flour
1/4tsp cream of tartar
For the sponge:
70g unsalted butter, softened
210g plain flour
250g caster sugar
1 tbsp baking powder
1/2 tsp salt
210ml whole milk
2 large eggs
1tsp vanilla extract
For the custard
220ml whole milk
2 large egg yolks
1 tsp vanilla extract
40g caster sugar
15g plain flour
15g cornflour
For the Frosting
660g icing sugar, sifted
210g unsalted butter, softened
60ml whole milk
1 tsp vanilla extract
a few drops yellow liquid food colouring (I omitted this)
Next up: Chocolate Malt Cake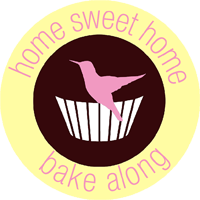 HTML code to insert Home Sweet Home badge (copy and paste):
 <a href="http://beckie-a.blogspot.co.uk/" rel="nofollow" target="_blank"><img src="http://twitchyneedles.com/homesweethome.png" border="0" height="170" width="170" alt="#HomeSweetHomeBakeAlong" /></a>  
I am entering this in #CookBlogShare, which this week is being hosted by
Hijacked By Twins