So far this Bake Along (for me) has been "Good Bake" then "Bad Bake," in a repeated round. This loaf was a "Good Bake."
Albeit a messy one. No matter how hard you push frozen blueberries into dough, they fall out when you turn it vertical. (True Story.)
The effort and the purple fingers are worth it, for a delightful sweet-bread.
I take slight umbridge at the photograph - from the photo it is clear it was sprinkled with granulated sugar, not light brown sugar, but hey-ho!
I also found that this loaf took longer in the oven than the recommended time.
Ingredients:
Dough:
300ml whole milk
25g caster sugar
1 tsp dried
fast-action
(or 'quick')
yeast (recipe gives 1.5tsp dried active yeast, but i've never really seen this, and have a large pack of fast-action yeast)
500g strong white bread flour, plus extra for dusting
1 tsp salt
85g unsalted butter, cubed
For the filling
60g unsalted butter, very soft
100g soft light brown sugar
200g blueberries
1 large egg, beaten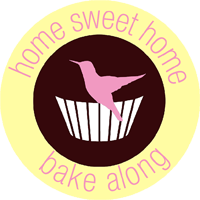 HTML code to insert badge (copy and paste):
 <a href="http://beckie-a.blogspot.co.uk/" rel="nofollow" target="_blank"><img src="http://twitchyneedles.com/homesweethome.png" border="0" height="170" width="170" alt="#HomeSweetHomeBakeAlong" /></a>  
I'm entering this in #CookBlogShare