In my mind, the world is divided into two types of people; those who run screaming from the thought of deep fat frying, and those who merely dislike it. I am very proud to have moved from the former category into the latter.
Yes, indeed, ladies and gentlemen, I have conquered my deep-seated fear of deep fat frying. This does not mean that every day will be fish, chips and doughnuts, oh, no. For the aroma of the frying does cling somewhat.
And when you take your funnel cakes to visit the Literary Lady, her daughter, Graceful Girl will very much enjoy sniffing your arm, and instructing The Vicar to do the same. (For the sake of propriety, he did resist.) The aroma did linger on in the house for at least a further 24 hours, too.
So, like
Gill
I will probably not be repeating these. I do, however, remain grateful to them for my induction into deep-fat.
The recipe made at least 10 of these "cakes" - but given each one will more than adequately serve an adult, that's quite a lot, really. (And as you can only make/fry one at a time, it is rather time consuming.)
Ingredients:
120g unsalted butter
1 tablespoon caster sugar
250ml water
pinch of salt
170g plain flour
4 large eggs
2 large egg whites
sunflower oil for deep frying
icing sugar for dusting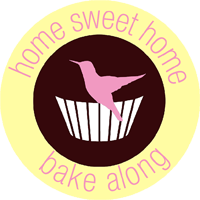 HTML code to insert badge (copy and paste):
 <a href="http://beckie-a.blogspot.co.uk/" rel="nofollow" target="_blank"><img src="http://twitchyneedles.com/homesweethome.png" border="0" height="170" width="170" alt="#HomeSweetHomeBakeAlong" /></a>  
I'm entering this in #CookBlogShare